Educational Support Services
Office of Educational Support Services
The Office of Educational Support Services facilitates instructional and support services for students, parents, and employees of Tuscarora Intermediate Unit #11 Service Area. If you need assistance or have questions related to the following services, please use the contact information provided.
Student Services: 
The Office of Educational Support Services coordinates a broad spectrum of supports and services within the school district's field of operation consisting of:
Non-Public School Services:
Remedial & Enrichment
Equitable Participation
Homeless Services
Student Assistance Programming Services & Compliance
English Language Learners Services & Compliance
Human Resources and Related Services: 
The Office of Educational Support Services carries out responsibilities in coordinating the following areas of system management:
Human Resources Services and ComplianceEmployee Compliance Training (Global Compliance Network)
While not a complete listing, the above provides a framework to gain assistance and understanding of the Office of Educational Support Services. Please contact Dr. Brett Gilliland if you have any questions.

Director for Educational Support Services, Human Resources, & Principal of Nonpublic Schools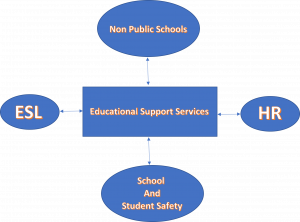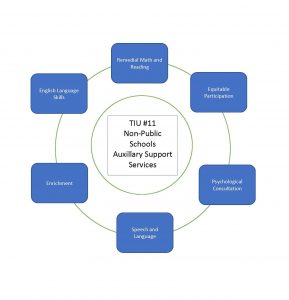 The Director for Educational Support Services, HR and Act 89 supervisory staff direct the operation of TIU programs and help to support a variety of non-public school, school and student safety, and Human Resources initiatives in the member school districts.  Direct instructional supervision is also provided to teachers, therapists, psychologists and support staff both in TIU operated programs and contracted services to school districts or nonpublic school programs.
Please Click Topics Below for Information
If you have questions about our services, or, if you would like to schedule a time to discuss how we can help with your needs, please fill out this form.
The Tuscarora Intermediate Unit is an equal opportunity education institution and will not discriminate on the basis of race, color, national origin, ancestry, religion, sex, sexual orientation, age, handicap, or limited English proficiency in its educational programs, services, facilities, activities, or employment practices as required by Title IX of the 1972 Educational Amendments, Title VI and Title VII of the Civil Rights Act of 1964, as amended, Section 504 Regulations of the Rehabilitation Act of 1973, the Age Discrimination in Employment Act of 1975, Section 204 Regulations of the 1984 Carl D. Perkins Act, the Americans with Disabilities Act, or any other applicable federal or state statute.  Any person who believes that s/he has been subjected to discrimination shall report all incidents of such conduct to Ms. Lisa Watson, Title VII/Title IX Compliance Officer, Tuscarora Intermediate Unit, 2527 US Hwy 522 South, McVeytown, PA 17051, 814-542-2501 or Dr.  Brett Gilliland, Director of Human Resources, Tuscarora Intermediate Unit, 2527 US Hwy 522 South, McVeytown, PA 17051, 814-542-2501.